VinFast VF 8 Customers Now May Be Eligible For Up To A $7,500 California EV Rebate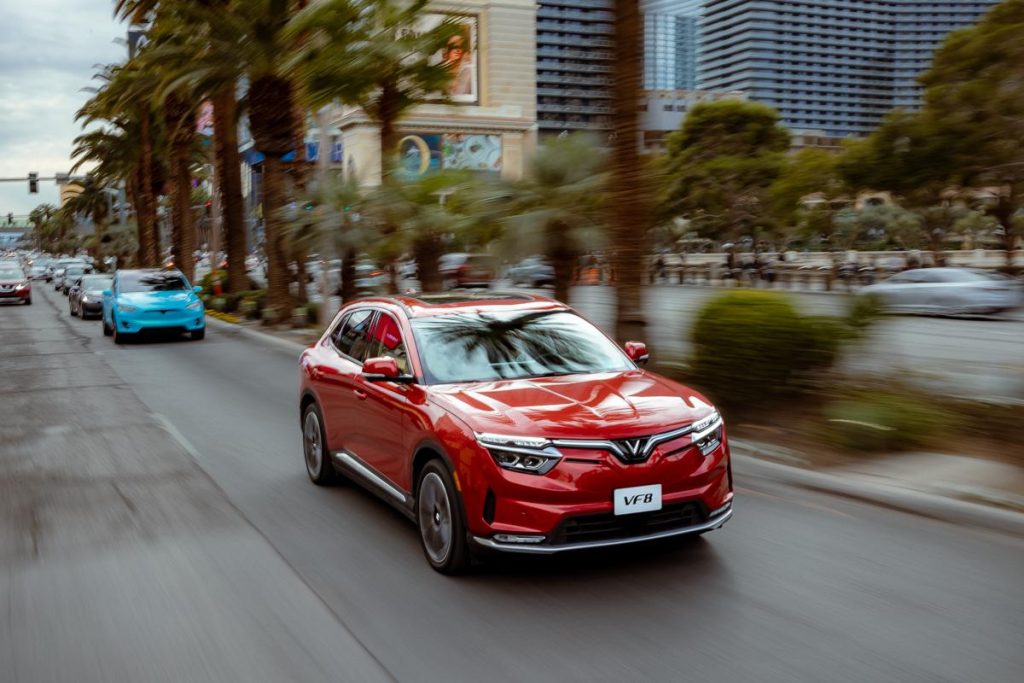 Los Angeles, California, April 17, 2023 – VinFast, the world's first automaker to completely transition from an internal combustion past to an all-electric vehicle future, today announced the VF 8 eSUV has been approved for eligibility in the Clean Vehicle Rebate Project (CVRP) from the California Air Resources Board (CARB). The addition of the VF 8 to the CVRP list of eligible vehicles means VinFast customers in California who buy or lease a new VF 8 will be able to apply for a CVRP rebate of $2,000 to $7,500.
The CVRP applies to all VF 8s sold or leased in California, retroactively from March of this year. Eligible customers in California can apply for the rebate via the CVRP website.
Receiving CARB eligibility approval of the VF 8 allows the model to qualify for inclusion in several other state incentive programs administered by the Center for Sustainable Energy including: Oregon, Vermont, Connecticut, New York, New Jersey, and Massachusetts. In addition, the VF 8 and VF 9 have also been officially added to the list of vehicles eligible for California's Clean Air Vehicle Decal Program which grants free HOV lane access for zero-emission vehicles.
Ms. Van Anh Nguyen, CEO of VinFast North America said, "State incentives like the CVRP help VinFast enhance its competitiveness in the key North American market. The incentives also help motivate customers to quickly transition to electric vehicles. I believe that, with VinFast's product quality, competitive sales policies and state incentive programs, VinFast electric vehicles will become a popular choice, further accelerating the movement to smart and green mobility."
Administered by the Center for Sustainable Energy on behalf of CARB, the CVRP promotes equitable clean vehicle adoption in California by offering eligible customers rebates from $2,000 to $7,500 toward the purchase or lease of new zero-emission vehicles, including electric, plug-in hybrid electric and fuel cell vehicles. According to CVRP data, California is currently the leading state in electric vehicle adoption nationwide with more plugin electric vehicles on its roads than any other state.
VinFast's second EV batch exported to North America, including 1,879 VF 8 standard models, left MPC Port (Hai Phong, Vietnam) on April 16. It is expected to arrive at Benicia Port, California in May. The shipment includes 1,098 VF 8s for the U.S. market that are also eligible for CVRP for California customers.
VinFast customers purchasing or leasing a new VF 8 can apply and learn about the individual eligibility requirements for the CVRP rebate at https://cleanvehiclerebate.org.
For more information on VinFast, please visit https://vinfastauto.us.
***
About VinFast
VinFast – a member of Vingroup – envisioned to drive the movement of global smart electric vehicle revolution. Established in 2017, VinFast owns a state-of-the-art automotive manufacturing complex with scalability that boasts up to 90% automation in Hai Phong, Vietnam. VinFast established a United States headquarters in Los Angeles, CA, opened several showrooms and service centers in California, and is developing a site in North Carolina for domestic manufacturing of electric vehicles.
Strongly committed to the mission for a sustainable future for everyone, VinFast constantly innovates to bring high-quality products, advanced smart services, seamless customer experiences, and pricing strategy to inspire global customers to jointly create a future of smart mobility and a sustainable planet. Learn more at: https://vinfastauto.us.
VinFast Safe Harbor Disclosure
This news release may include forward-looking statements within the meaning of Section 27A of the Securities Act of 1933 and Section 21E of the Securities Exchange Act of 1934. Such forward-looking statements are subject to certain risks, uncertainties and assumptions and include VinFast's expectations. Forward-looking statements typically can be identified by the use of words such as "will," "expect," "believe," and similar terms. While these forward-looking statements represent VinFast's current judgment on what the future holds, they are subject to risks and uncertainties that could cause actual results to differ materially. Factors that could cause actual results to differ materially from those contemplated above include, but are not limited to, general economic conditions, hazards customary in the automotive industry, competition in certain markets, the volatility of battery prices, failure of customers to perform under contracts, changes in government regulation of markets and of environmental emissions, and our ability to achieve the expected benefits and timing of our electric vehicle projects. VinFast undertakes no obligation to update or revise any forward-looking statements, whether as a result of new information, future events or otherwise. The foregoing review of factors that could cause VinFast's actual results to differ materially from those contemplated in the forward-looking statements included in this news release should be considered in connection with information regarding risks and uncertainties that may affect VinFast's future results.
Bạn cần đăng nhập để tương tác với nội dung này: Đăng nhập.