5 outstanding highlights of VinFast VF 9 electric car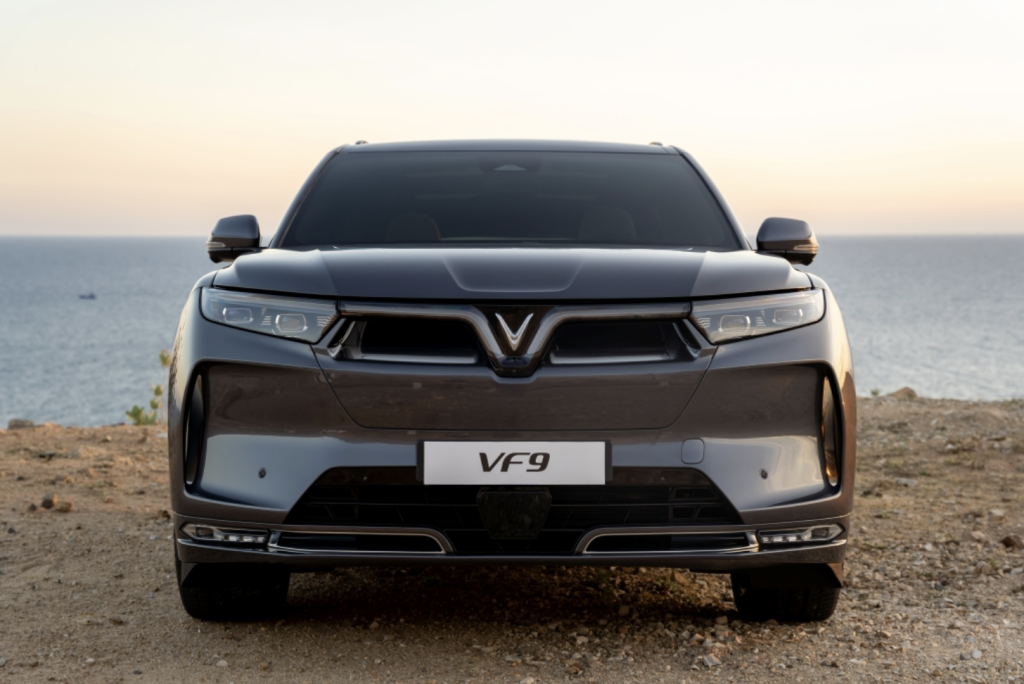 The VinFast VF 9 model has been attracting the attention of the car-loving community and is considered a formidable competitor to many luxury car models in the E-SUV segment. Let's explore 5 outstanding highlights of VF 9 – the most advanced electric car model of the national car company. 
Oversized SUV with the most spacious interior in the segment
With dimensions of Length x Width x Height of 5,118 x 2,254 x 1,696 (mm), VF 9 is the largest car model in the E-SUV segment on the current market. The "monumental" physique of the VF 9 is created by placing a low center of gravity, designing a square front and high rear, creating a strong yet sophisticated look. 
Also has the largest wheelbase in the segment, up to 3,150 mm. Thanks to that, this car model has an exceptionally spacious interior, giving users comfortable space in all 3 rows of seats. VF 9 has 2 seating options: a full-size 7-seat version or a unique 6-seat version (captain's seats in the back row) with amenities inspired by business class seats. 
Impressive design, optimized aerodynamics
VF 9 possesses a modern, luxurious design with dynamic, strong lines and a sporty style. Every detail on the car is carefully calculated by designers from the famous studio Pininfarina to both create highlights and optimize performance according to aerodynamic principles. 
Impressive on the VF 9 can be mentioned the air vents on the hood and front bumper, two prominent air intakes, hidden door handles that seamlessly blend with the body of the car, the roof of the car is swept back…optimizing the wind resistance coefficient and increasing vehicle travel distance. 
With a battery system with a usable capacity of 123kWh, VF 9 can travel up to 330 miles after each full charge for the Eco version and 219 miles for the Plus version (according to WLTP standards). 
The cockpit is equipped with leading technology
The interior compartment of the VF 9 is designed to be minimalist to bring a relaxing and pleasant experience to the driver and passengers. 
Standing out in the cockpit of the VF 9 is a 15.6-inch Full HD touch entertainment screen that can control a series of features on the car: opening and closing the rear trunk, adjusting the mirrors, etc. The traditional dashboard has been replaced. with a modern HUD display screen. To ensure the health of the driver and passengers, VF 9 is equipped with a 3-zone automatic air conditioning system with integrated cabin air filtration and air ionization functions. 
Outstanding amenities
On the 6-seat option, the captain's row of VF 9 is inspired by luxurious business class seats, allowing each passenger to enjoy maximum privacy and comfort thanks to delicate, soft seat materials. and equipped with impressive technology.  
Experience "business class" on the ground with segment-leading amenities such as: 8-inch touch entertainment screen for the rear seats, massage, heating, ventilation for both rows of seats, integrated wireless charging on the storage compartment (Plus version)… 
A unique and not-to-be-missed feature of the VF 9 is the luxurious panoramic glass ceiling – equipment usually only found in car models from luxury brands. Users can take advantage of long trips to admire natural scenery, while listening to music, listening to audiobooks, watching movies, interacting with Virtual Assistant… thanks to a series of smart features available on the car. . 
Outstanding safety equipment
Like other VinFast models, VF 9 is designed to meet the highest international safety standards on the market: ASEAN NCAP 5*, Euro NCAP 5* and NHTSA 5*. The vehicle is equipped with 11 airbags, has a sturdy chassis system and is fully equipped with advanced safety technologies such as: Electronic stability system (ESC); Anti-lock braking system (ABS); Seat belt reminder system (SBR) for both front and rear seat occupants, Detects rear seat occupants; Advanced automatic emergency braking (AEB) in cities and urban areas, Emergency braking for pedestrians; Forward collision warning (FCW); Lane departure warning (LDW); Lane keeping assist (LKA)… 
In particular, VF 9 is integrated with level 2 advanced driver assistance features (ADAS) such as Highway Driving Assistance, Traffic Assistance in Congestion… At level 2, the vehicle has the ability to intervene. Interfere with steering, braking, and acceleration operations on the vehicle to assist the driver in case he or she cannot react in time. In addition, a series of smart features of VF 9 are considered outstanding in the segment, such as smart vehicle control functions, automatic rescue calls, especially the smart virtual assistant that helps the driver's experience. 
With spacious interior space, unique and impressive design and a series of leading technology and amenities in the segment, VF 9 is considered outstanding in the E-SUV segment currently sold on the market. The car model was developed to meet all the daily needs of busy business customers and on long journeys. 
Bạn cần đăng nhập để tương tác với nội dung này: Đăng nhập.