The VinFast VF 8 Color Scheme
With its superior lithium – ion battery technology, maximum operational range of up to around 420 km/charge, and remarkable smart features, the VinFast VF 8 is also attracting buyers thanks to its contemporary look, including the new and distinctive VF 8 automobile color palette. The hue of the VF 8 is up-to-date with international color trends and also meets the desires of customers.
The VinFast VF 8 is a D-size electric SUV with two variants – Eco and Plus. In particular, the VF 8 color palette has garnered a lot of appreciation as it allows owners to show off their unique style and sophistication.
How many colors does the VF 8 have?
The VinFast VF 8 features a modern design that becomes even more attractive when its gorgeous, on-trend paint colors are used. This smart electric car model includes 8 exterior color options including:
The Brahminy White VF 8
The Desat Silver VF 8
The Crimson Red VF 8
The Neptune Grey VF 8
The Sunset Orange VF 8
The Jet Black VF 8
The VinFast Blue VF 8
The Deep Ocean VF 8
Fashionable and classy VF 8 hues updated for 2023
Customers can further express their individuality through their selection of interior colors by selecting from the following options:
VF 8 Eco: Granite Black
VF 8 Plus: 4 interior options – Saddle Brown, Granite Black, Cotton Beige, and Navy Blue
The color schemes for the outside and inside of the VinFast VF 8 are vibrant and on-trend, making the vehicle adaptable to a wide range of customer preferences. The color of the VF 8 is completely up to the buyer and can be selected in accordance with their style, personal taste, and feng shui.
(*) Images shown contain pre-production level vehicles. Actual production vehicles may differ.
1. The Brahminy White VF 8
The qualities of wisdom, benevolence, and enthusiasm are all associated with Brahminy White. The Brahminy White VF 8 exudes a more authoritative, trendy, and subdued vibe than a regular white vehicle. This VF 8 works for those with the earth, water, or metal elements.
2. The Desat Silver VF 8
Desat Silver is associated with sophistication, good fortune, and prosperity. The Desat Silver VF 8 provides its owner with a high level of sophistication and luxury. For this reason, many businesses, particularly those who identify with the water or metal elements, choose this hue for their automobiles.
3. The Crimson Red VF 8
The Crimson Red VF 8 leaves a powerful impression due to the attractiveness and prominence of the vehicle. It is a color at the intersection of mysterious allure and authoritative presence. Because it was painted using sophisticated methods, the Crimson Red VinFast VF 8 exudes a striking beauty from any vantage point.
Because the Crimson Red VF 8 has an assertive and ebullient demeanor, it attracts the attention of young people as well as business people. In the feng shui principle of the five elements, the color red is associated with those who have earth and fire as their primary elements.
4. The Neptune Grey VF 8
In Roman mythology, Neptune is a god associated with water. Therefore, refinement, as well as power, is represented by Neptune Gray. Customers with a more mature mindset are particularly drawn to the Neptune Gray VinFast VF 8. This color is recommended in particular for persons who are destined to be elements of metal or water.
5. The Sunset Orange VF 8
Sunset Orange is a fresh and vibrant color that is bright without being blindingly brilliant. This color can alter its shade in response to the varied light frequencies that it is exposed to, which can result in some surprising and exciting discoveries.
VinFast releases the Sunset Orange VF 8 to the public for the first time in 2022
People who have assertive personalities and want to draw attention to themselves might consider using vibrant and on-trend color palettes. Orange is the best color for people with earth and fire elements, according to the theory of the five elements.
6. The Jet Black VF 8
A sensation of elegance and intrigue is generated by the color Jet Black, which also works in harmony with the body's finely sculpted curved contours. Therefore, the Jet Black VF 8 is the best option for people who prefer understated elegance over complex designs. People who identify with the Water or Wood elements would do well to use a VF 8 in Jet Black.
7. The VinFast Blue VF 8
VinFast Blue is an exclusive shade of blue that is available on the brand-new VF 8 model. This color is associated with a sense of new starting points, optimism, and prominence. This is a car color that works well for a variety of subjects, but the blue VF 8 works particularly well for people whose elements are water and wood, as well as for people who are interested in learning new and different things.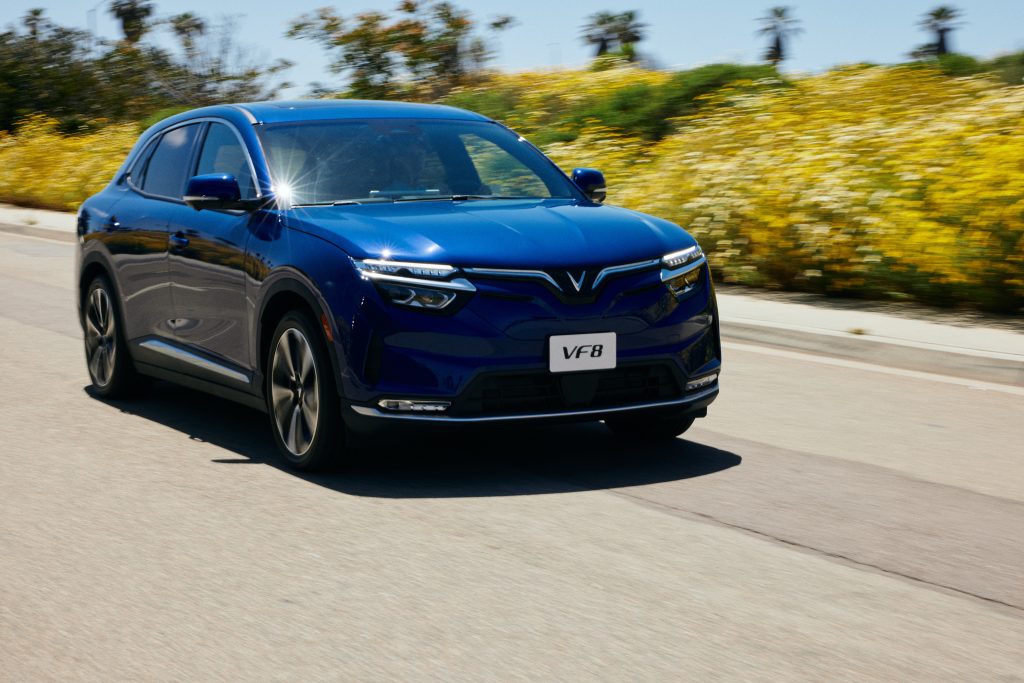 8. The Deep Ocean VF 8
Deep Ocean (green) is a world vehicle color trend, and it helps the VF 8 stand out by having an appearance that is both fresh and energetic.
Since the Deep Ocean VF 8 is supposed to be the color of nature, using it provides customers with a sense of comfort and harmony with the natural world. VinFast's statement that it is committed to being ecologically responsible is made easier to understand by the Deep Ocean VF 8, which does not produce any emissions, causes no noise pollution, and is green.
The vibrant and alive image of the Deep Ocean VF 8
The above information is quite comprehensive. The VF 8 color palette offers customers a diverse selection of color options, making it simpler for them to make a selection. There are a variety of memories and feelings that are associated with each hue of the VF 8. The VF 8 will be a partner for owners to help them shine on all roads, with the range per full charge (EPA) up to 264 miles (in the Eco version) or 243 miles (in the Plus version).
>>> Find out more: The California Double
Bạn cần đăng nhập để tương tác với nội dung này: Đăng nhập.